BASKETBALL NEWS
Picture Day Postponed
Team and individual pictures for basketball teams in all leagues up through the 5th/6th grade leagues were supposed to be taken in the Indian Hill Cafetorium Saturday, January 24th. The weather had other plans. Stay tuned for the new date which will be posted here and communicated to all coaches as soon as it's set.
Basketball Friday Night Stations for K-2
HYAA will once again be holding free basketball clinics for all those in grades K-2. The clinics will be held on Friday nights in either the Village School or Indian Hill gyms.
The schedule is available on the basketball page for the different age groups. Be sure to check for your child's age group to know which nights and gyms will be used for each clinic.
WRESTLING NEWS
Wrestling clinic for grades 1-8 continues through Feb 19
HYAA is offering a three month wrestling program for grades 1-8 beginning November 11th and ending February 19th. Sessions will be held on Tuesdays and Thursdays from 6:00-7:30pm at the High School Wrestling Room.
LACROSSE NEWS
Registrations Now Being Accepted
Registrations for the boys and girls spring lacrosse program are now being accepted. Registration forms have been distributed in the schools and can be printed from the lacrosse page. Online registrations are also being accepted. Be sure to read the overviews of each program before submitting your registrations. Registrations received after February 6 are subject to a $50 late fee.
BASEBALL/SOFTBALL NEWS
Registrations Now Accepted for Baseball/Softball
Registration forms have been distributed in the schools. Online registrations are also accepted using our secure registration form. Be sure to register by January 28th to take advantage of the $20 discount. Registrations received after February 18th are subject to a $50 late fee with no guarantee of placement on a team.
You can also print the registration form and return it with your check to the HYAA office.
Holmdel Girls 10U & 12U Travel Softball Tryout
HYAA will be holding a tryout for the Girls 10U & 12U Travel Softball Teams on Sunday, January 11. Anyone who cannot attend that date but wishes to tryout should contact Chris Briamonte at 201-424-2113 or chrisbriamonte@ffpinc.com.
Additional information and the registration form are available by clicking here.
2015 Winter Softball Clinic
Holmdel High School varsity softball coach Nora Bosmans will once again be conducting an eight week softball clinic for girls in grades 3 through 8. The clinic will be held in the Satz gym on Wednesdays from 6-7:30pm will cover hitting, bunting, and defensive techniques.
For more information please download the registration form and return it with your check for $100 to Coach Bosmans at the HS address on the form.
SOCCER NEWS
Galaxy Boys 4/5/6 Champs
The Galaxy coached by Brett Frieman & Peter Reddy won the HYAA Boys 4/5/6 soccer Championship on Saturday Nov 15th over Team Real coached by Howard Shallcross. It was a great game that came down to the wire. Final score was 3-2
Players from left to right are: Brydon Hayes (4th grade), Balaz Papp (6th grade), Andrew Chen (5th grade), Jack Lydel (5th grade), Aidan Lagana (5th grade), Louis Ambrosio (5th grade), Colin McCauley (6th grade), Andrew Reddy (4th grade), Henry Frieman (4th grade), Nick Seibel (4th grade), Danny Lynch (4th grade) & Shane Marion (4th grade). Not pictured is Mike Conti (5th grade).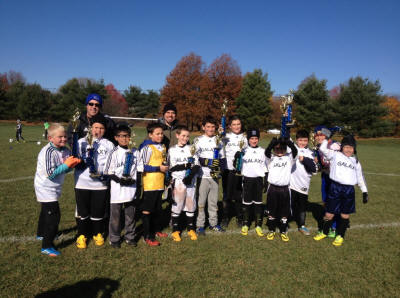 Student Volunteer Hours
All students who volunteered for HYAA soccer and need a community service form completed should send an email to Jim Calhoun at jimcalhoun1@verizon.net. You will need to provide your name, the number of hours completed and your current grade.
MISCELLANEOUS
Important Dates
| | |
| --- | --- |
| TBD | Basketball Picture Day |
| Jan 28 | Baseball/Softball Early Registration Ends |
| Mar 14 | Basketball March Madness |
Time To Help One of Our Own
After fighting and recovering from cancer just two years ago, Tim McDonnell, Sr. received the phone no parent ever wants to receive. His son Tim, Jr. while attending Rutgers was struck by a car and placed in a medically induced coma. Now weeks later, Tim faces a long road to recovery, currently in a rehabilitation center showing some signs of hope.
The outpouring of support both from the Rutgers & local communities has been overwhelming but as you might imagine, the family faces mounting medical bills.
A website has been created www.FightforTimmy.com that provides more information as well as accepts donations online. Click here for some additional information.
The McDonnells have been involved in and supported many charities in the past and we are asking everyone's support to now help them in this difficult time.
6th Grade Boys Team Win Its 2nd Tournament of the year!
The 6th grade boys travel team won the Berkeley tournament by beating Barnegat in the title game 51-42 on Sunday (January 25th).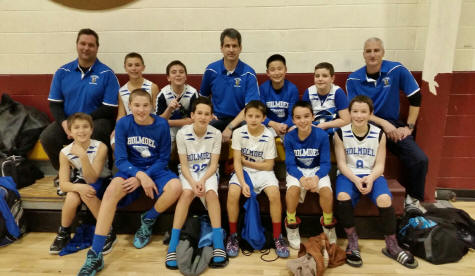 The boys as shown in the picture are first row: Christian Gravier, Alex Baker, Anthony Pesce, Drew Cannizzo, Ian Flanagan, Tigher Quinn-Steineke and second row: Alexei Iturbe, Jaden Grillo, Albert Zou and Alden Hary. Kyle Polivka not pictured. Coaches left to right are Tom Steineke, John Polivka (head coach) and Jeff Baker. Coach Iker Iturbe not pictured.
Coach Background Checks
Coaches must fill out the background check form, and bring a driverís license to the office or to a Pre-Season Coaches Meeting in order to coach in HYAA. This applies to all head coaches and assistants. The fee will be paid by HYAA. Forms will be available at the monthly HYAA meetings, in the HYAA office, and at any Pre-Season Coaches Meetings. Background checks must be completed every two years.
Coach's Guide to Concussions in Youth Sports
Please use link below to take the CDC free Coach's Concussion Course:
http://www.cdc.gov/concussion/headsup/training/index.html
You can use this link for downloadable materials available from the CDC website on concussions:
http://www.cdc.gov/concussion/HeadsUp/youth.html
HYAA Advertising Program
Please partner up with HYAA and help serve the youth of our community by providing them with the necessary tools to learn the sports of Baseball and Softball.
PROMOTE YOUR BUSINESS WITHIN THE COMMUNITY
HYAA is offering a sponsorship opportunity for 2015 at our busy Phillips Park Fields. All signs will be displayed for the entire season. Be sure to print out the HYAA Sponsorship form and return it to the HYAA office.
Holmdel Township Recreation Department
Programs and activities are also available through the Holmdel Townships Parks and Recreation website. Click here for additional information.
ADVERTISEMENT