BASKETBALL NEWS
Practice Schedules Are Available
Basketball practices will begin Saturday, December 7th and run through the first week of January. Coaches that need to change their schedules should work through their league presidents to swap times. In some leagues we are still waiting for the final list of coaches and those schedules will be adjusted as soon as possible.
Click here to view the league practice schedules.
Red Bank U11 Fall League Champions !!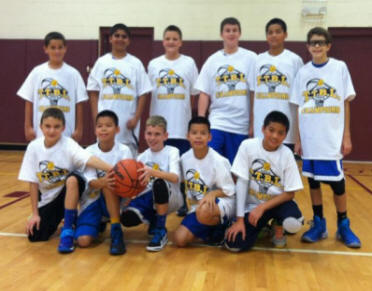 Congratulations to the 6th Grade Boy's Travel B Team for winning the 2013 U11 League Championship by beating Middletown 44-28. It's a competitive league every year and all the players had a hand in getting the team to the Championship. Great Job Team!
Congrats Again to: Jai Bakshi, Matt Bracero, Derek Chan, Douglas Chan, Quinn Coffaro, Hunter Cronin, John Curreri, Justin Guerin, Tanner Hroblak, Byron Ng, Jason Ng, Matt Ruzich, Thomas Volpicella and Coaches Brian Coffaro and Rich Ng.
HYAA 13U Boys Champs in Philly
Congratulations to the HYAA boys 13U for winning the Fall 2013 Asian Basketball Invitation this weekend in Philly. Great effort by a great group of boys. Coaches Zhou and Dolan could not be more proud of the team for their great hustle and teamwork. The tema was invited to the state tournament in Jacksonville, FL to compete with top regional teams.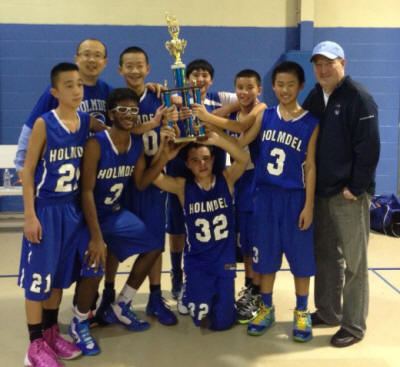 The team consisted of Timmy Zhou, Sean Dolan, Thanay Parvataneni, Justin Arredondo, Chris Hu, Eric Cheah and Evan Smith.
Holmdel Girls U13 Win Marlboro Tournament
The Holmdel Girls U13 basketball team won the Marlboro Tournament by beating Millstone 56-40 on Saturday night. The team had defeated Middletown, Marlboro and Berkeley to advance to the finals. The Holmdel girls continue to display a high degree of teamwork and perseverance as this year marked the third time they have won the Marlboro tournament, and they now have a 12-0 record this season. The team is comprised of Christina Antonakakis, Sydney Coffaro, Olivia DiNardo, Hayley Giuca, Amanda Hart, Erica LaBarca, Tori Nolan, Marilou Quintana, Kaleigh Remick and Katie Wolff. They are coached by Phil Giuca, Joe Antonakakis and Paul Remick.
WRESTLING NEWS
Registrations for This Season
Late registrations for this year's wrestling program are still being accepted. Registration forms are available at the HYAA office. You can register by bringing your completed form and check to the HYAA office during normal hours. Note that a $50 late fee will be added to each registration received after November 1st.
LACROSSE NEWS
Girls Program Needs Coaches
The girls lacrosse program is looking for coaches. We will train you. Please contact Regan Teti, Girls Lacrosse Commissioner at reganteti@gmail.com for details.
Important News!!
HYAA Lacrosse now has dedicated lacrosse fields for practice and games at Village School

We now have 3 boys teams, one 3rd/4th grade team, one 5th/6th grade team, and one 7th/8th grade team
BASEBALL/SOFTBALL NEWS
Travel Baseball Tryouts
HYAA will be having travel baseball tryouts on November 17 for the 2014 competitive travel baseball teams. If your son is interested in playing travel baseball please have him register and attend the tryout. See the HYAA baseball page for more information.
SOCCER NEWS