BASEBALL/SOFTBALL NEWS
Parade Is This Saturday - Route Has Changed
The annual HYAA parade will be held at Cross Farm Park this year on Saturday, April 25th at 10am. All participants (parents, kids, coaches, etc.) are to park in the main parking lot of Cross Farms Park and walk to the parade route which will begin between baseball fields 3 and 4. There will be signs directing you to the parade route and to your league.
We will march out of the park to Willowbrook Road, left down Longbridge Road and back into the main entrance to Cross Farm Park to the outfield grass of baseball field #1. There will be a brief ceremony and then we can all join Community Day.
Please arrive at Cross Farm Park by 9:30am as the parade will kick off at PRECISELY 10am. Players should wear their uniforms with sneakers and banners are encouraged!!
Baseball/Softball Schedules
The schedules for most of the Boys Baseball and Girls Softball are available on the Baseball/Softball page.
WRESTLING NEWS
2015 Wrestling Spring Clinic
HYAA will once again be conducting a spring wrestling clinic. The wrestling program for grades 1-11 will be held inthe High School wrestling room beginning April 1th through June 5th. Note that there will be no sessions on April 3rd, 8th, or 10th and no session on May 22nd.
Sessions will be held on Wednesdays and Fridays from 6-7:30 pm. Please fill out the registration form and return it with your check to the HYAA office.
LACROSSE NEWS
Online Registrations No Longer Being Accepted
Online registration for the boys and girls spring lacrosse program is now closed. Registration forms can be printed from the lacrosse page and brought to the HYAA office. Online registrations are no longer being accepted. Be sure to read the overview of each program before submitting your registrations. Registrations received after February 6 are subject to a $50 late fee.
SOCCER NEWS
Galaxy Boys 4/5/6 Champs
The Galaxy coached by Brett Frieman & Peter Reddy won the HYAA Boys 4/5/6 soccer Championship on Saturday Nov 15th over Team Real coached by Howard Shallcross. It was a great game that came down to the wire. Final score was 3-2
Players from left to right are: Brydon Hayes (4th grade), Balaz Papp (6th grade), Andrew Chen (5th grade), Jack Lydel (5th grade), Aidan Lagana (5th grade), Louis Ambrosio (5th grade), Colin McCauley (6th grade), Andrew Reddy (4th grade), Henry Frieman (4th grade), Nick Seibel (4th grade), Danny Lynch (4th grade) & Shane Marion (4th grade). Not pictured is Mike Conti (5th grade).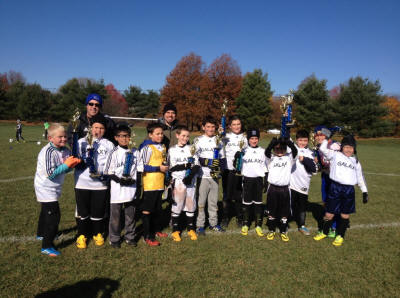 Student Volunteer Hours
All students who volunteered for HYAA soccer and need a community service form completed should send an email to Jim Calhoun at jimcalhoun1@verizon.net. You will need to provide your name, the number of hours completed and your current grade.
BASKETBALL NEWS
Girls Basketball Clinics
HYAA will be hosting basketball clinics for girls in grades 1 through 4. The girls 1st/2nd grade clinic will be on Friday evenings beginning April 24th from 7:30 – 9:00 p.m. in the Village School New Gym. Clinic ends Friday, June 12th. The clinic for girls in grades 3 and 4 will start on April 14th and run through May 26th. No online registrations accepted so please print the appropriate form below and return it with your payment to the HYAA office.
Girls 1st/2nd Grade Clinic Registration Form
Girls 3rd/4th Grade Clinic Registration Form
Spada's Mavericks Take Boys 5/6 Crown
Congrats to Coach Spada's Mavericks for taking home the Boys 5/6 Grade crown. Top row - left to right: Coach Michael Spada, Francis Ruzich, Darren Shen, Jon Polera, Nick Spada, Tom Sardo, Anthony Pesce, Coach Steve Burke. Bottom row - left to right Tyler Taddio, Tommy Jackapino, Josh Burke.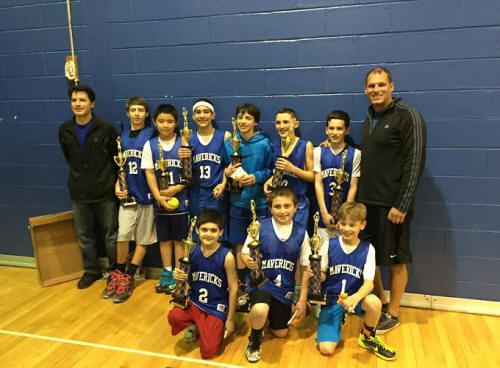 Bodnar Wins 4th Grade Championship
Team Bodnar/Reddy (Thunder) beat Team Wong/Verdoort (Heat) in 2 straight games after losing the 1st. Both teams played real hard with the Thunder coming out on top in the last 2 games.
Pictured from L-R: Matt Bodnar, Tyler Straley, Andrew Arrendondo, Thomas Copolla, Andrew Reddy, Max Woodward, Mohamed Elmesei, Parker Beyun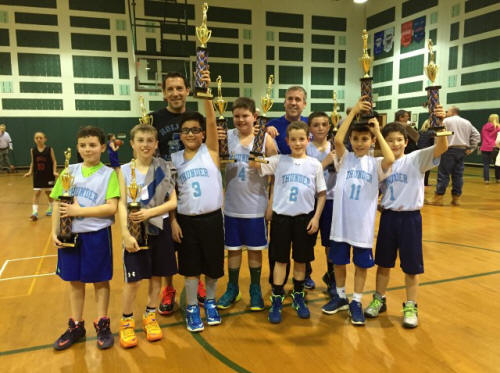 Final playoff brackets for all leagues are available on the basketball page.
Team Hynes Boys 4 March Madness Champs
Team Hynes (East) beat team Baker in a very close game.
L-R: Tim Haggerty, Dylan Lagana, Logan Wagner, Thomas Coppola, Brendan Cieplensky, Mike Bracero, Ben Wong, Ryan Hammer, Max Woodward, Greg Vervoordt, Matt Bodnar, Alex Rabkin, Jeremy Topel, Alex Hendrickson, Elliot Chun, Steven Donahue, Anthony Marzano, Dan Lynch, Andrew Harrison, Andrew Reddy, Colin Hynes, Andrew Arrendondo, Aidan Hynes, Ray Baker, Braden Mohr & Ryan Kennedy.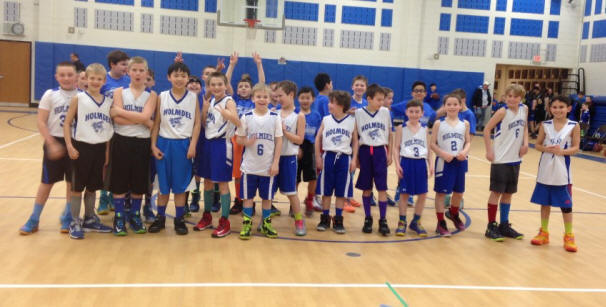 MISCELLANEOUS
Important Dates
| | |
| --- | --- |
| Apr 25 | Community Day / Baseball/Softball Opening Day |
| May 30 | Baseball/Softball Picture Day |
Girls 3rd/4th Grade Travel Team Champs
The odds were against the girls 3/4th grade travel team facing an older, bigger, stronger, faster Marlboro team. There is no measurement for the heart of a champion though! Down 13-6 toward the end of the 3rd quarter, this young group rallied for a miraculous 18-17 comeback victory Sunday 3/8, winning Holmdel's 1st Mid Monmouth championship in a long time! Julia Karpell led the Hornets with 12 points, including a long jumper to cut the deficit to 15-14 with a minute to go. Erica Stolker went 6 for 6 from the foul line in the fourth quarter, including 4 free throws in the last 40 seconds that turned a 15-14 deficit into an 18-15 lead. The girls never looked back and finished the game strong to bring home the title! These girls worked so hard throughout the year – each contributed to an amazing season. All 11 great Holmdel families could not be more proud!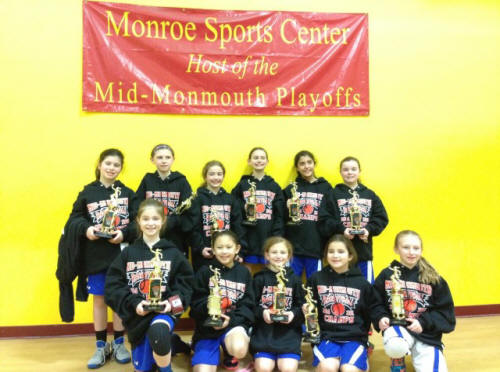 Pictured wearing championship sweatshirts:
(top from left): Julia Karpell, Janie Bachman, Ava Rubano, Olivia Calhoun, Alexandra Loucopoulos, Jamie Decicco. (bottom from left): Allison Cannon, Maddie Fanelli, Erica Stolker, Rachel Quirk, Maggie Lamountain.
The team is coached by Dawn Karpell, Mike Loucopoulos, and, Rob Stolker. Team coordinator is Danielle Cannon.
HYAA 3rd Grade Boys Undefeated Champions!
The Holmdel third grade boys travel basketball team became champions of the 2015 Mid Monmouth League on March 8th , beating Marlboro by a score of 34-22. Not only did the boys win the championship, they also had an undefeated 10-0 record in the Mid Monmouth regular season. Overall for the season the team went 21-0 in their age division! The kids really worked hard, learned a lot about basketball and had a lot of fun. The head coach is Iker Iturbe. He is assisted by Brendan Sharpe and John Polivka.
Top Row Players left to right: James Vallillo, Julen Iturbe, Luke Wassef, Ben Kipnis and Will Gilfillan. Bottom Row left to right Lawrence Mancino, Gary Collyer, Patrick Sharpe, Tyler Gravier, Matt Tempone, Luke Brand and Colin Polivka. Coaches left to right Brendan Sharpe, Iker Iturbe and John Polivka.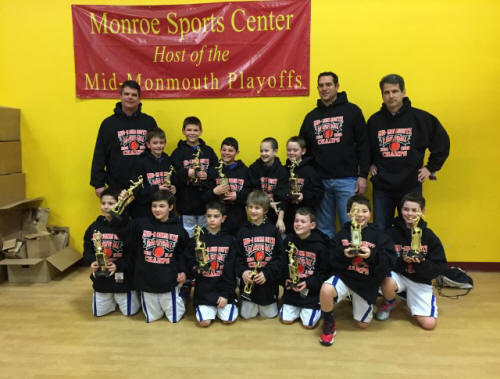 Rutgers SAFETY Course
HYAA will be sponsoring the Rutgers SAFETY class on March 30th in the Satz Library. All coaches and assistant coaches are required to attend this one time certification class. The course is $35, checks payable to HYAA.
The classes tend to fill up so reserve your seat today (more information).
Time To Help One of Our Own
After fighting and recovering from cancer just two years ago, Tim McDonnell, Sr. received the phone no parent ever wants to receive. His son Tim, Jr. while attending Rutgers was struck by a car and placed in a medically induced coma. Now weeks later, Tim faces a long road to recovery, currently in a rehabilitation center showing some signs of hope.
The outpouring of support both from the Rutgers & local communities has been overwhelming but as you might imagine, the family faces mounting medical bills.
A website has been created www.FightforTimmy.com that provides more information as well as accepts donations online. Click here for some additional information.
The McDonnells have been involved in and supported many charities in the past and we are asking everyone's support to now help them in this difficult time.
Coach Background Checks
Coaches must fill out the background check form, and bring a driver's license to the office or to a Pre-Season Coaches Meeting in order to coach in HYAA. This applies to all head coaches and assistants. The fee will be paid by HYAA. Forms will be available at the monthly HYAA meetings, in the HYAA office, and at any Pre-Season Coaches Meetings. Background checks must be completed every two years.
Coach's Guide to Concussions in Youth Sports
Please use link below to take the CDC free Coach's Concussion Course:
http://www.cdc.gov/concussion/headsup/training/index.html
You can use this link for downloadable materials available from the CDC website on concussions:
http://www.cdc.gov/concussion/HeadsUp/youth.html
HYAA Advertising Program
Please partner up with HYAA and help serve the youth of our community by providing them with the necessary tools to learn the sports of Baseball and Softball.
PROMOTE YOUR BUSINESS WITHIN THE COMMUNITY
HYAA is offering a sponsorship opportunity for 2015 at our busy Phillips Park Fields. All signs will be displayed for the entire season. Be sure to print out the HYAA Sponsorship form and return it to the HYAA office.
Holmdel Township Recreation Department
Programs and activities are also available through the Holmdel Townships Parks and Recreation website. Click here for additional information.
ADVERTISEMENT