SOCCER NEWS
Student Volunteers Needed
We are looking for student volunteers for community service hours to help coaches with practices and/or games. You can choose any of the following time slots to attend:
Sat- 9am-10:15am, 10:30am-11:45am (fields 6, 7)
Tue- 5:30pm-6:45pm (fields 6, 7)
Thu- 5:30pm-6:45pm (fields 6, 7)
Anyone interested should call Jim Calhoun at 732-888-8023.
BASKETBALL NEWS
Basketball Registrations Now Being Accepted
Registration forms are being distributed in the schools this week. You can download a copy of the registration form and return it to the HYAA office with your check. Online registrations are now being accepted using our secure online form - credit card payment required for online registration. Be sure to register by October 22 to receive the $15 early registration discount. All registrations received after November 12 are subject to a $50 late fee with no guarantee of placement on a team.
Travel Basketball Tryouts
HYAA will be conducting travel basketball team tryouts for girls 3rd/4th grade and boys 3rd grade (the grades the boys and girls are in right now). Travel teams are highly competitive, there will need to be some cuts as part of the evaluation process and there is no guaranteed playing time. The HYAA recreation program, which is more developmental and ensures a relatively even level of playing time, will be accepting sign-ups in late October.
Updated Tryout Dates (as of September 15) - please continue to check back as the schedule may change:
Girls 3rd/4th Grade
Oct 1 at Village New Gym - 6:00 - 7:25p
Oct 8 at Village New Gym - 6:00 - 7:25p
Boys 3rd Grade
Sep 29 at Indian Hill New Gym - 6:00 - 7:25p
Oct 6 at Indian Hill New Gym - 6:00 - 7:25p
The tryout guidelines and additional information are available on the Travel Basketball page. Please be sure to check back here as the schedule does change on occasion.
WRESTLING NEWS
HYAA Wrestling Pre-Season Clinic
HYAA will be conducting a pre-season wrestling clinic The clinic will be a six week programi for grades 1-8 (ages 6-14). The clinic will begin October 3th and run through November 14th (no session on November 7th). Sessions will be held on Fridays from 6:00-7:30pm at the High School wrestling room. The cost for the clinic is $35, plus the $25 association fee for families that have not already paid.
All those interested should print the registration form and returned to the HYAA office.
LACROSSE NEWS
BASEBALL/SOFTBALL NEWS
Hornets 11U Team wins USABL Summer League
Hornets triumph in 15-5 win over Old Bridge in championship game at Phillips Park. Co-MVPs: Christian Gravier and Jared Battaglia.
From Left to Right: James Sciacca, Stevie Siebel, Nick Iulo, Jared Battaglia, Ryan Stewart, Mike Umbrino, Matt Perez, Alex Stanyek, Christian Gravier, and Drew Cannizzo, Also on the team are Mac Rainess and Kyle Polivka (not in photo). Head Coach: Steve Siebel. Asst. Coaches: Michael Umbrino and Alan Stewart.
Holmdel Highlanders Capture USABL Championship
The 12-U Holmdel Highlanders won their USABL divisional championship, with late come-from-behind playoff wins against Fair Haven (6-5) and Freehold (13-9).
They also placed 2nd in The East Brunswick Summer Slugfest, losing to Franklin 6-5 in the finals.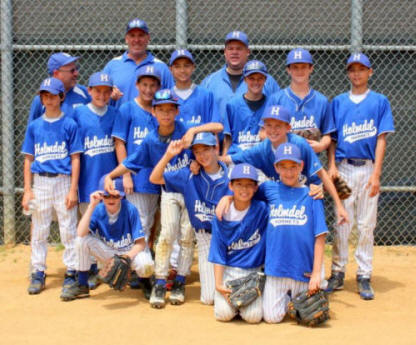 Pictured in photo, from 4th row: coaches Pat Demech, John Cronin and Joe Hroblak. 3rd row: Nick Demech, Tanner Hroblak, Matt Bracero, Derek Chan, Jake McCarthy, Anthony Rillo, Doug Chan. 2nd row: Declan Jackman, Jason Ng, Justin Lautenberg, Hunter Cronin. 1st row: Byron Ng, Mike Hendrickson.
MISCELLANEOUS
IImportant Dates
Oct 22
Early registration deadline for basketball
Nov 10
Rutgers SAFETY Course - Satz Library
Information
Nov 12
Basketball registration deadline
Mar 14
Basketball March Madness
Rutgers SAFETY Course - November 10th
HYAA will be hosting a session of the Rutgers SAFETY course. All coaches are required to be Rutgers certified by attending the SAFETY class once. The three hour class will be held on Monday, November 10th in the Satz library.
Click here for more information and to reserve a spot in the class.
Girls Travel Team Take 1st Place
Congratulations to Coaches Cannon and Taylor and the 5th grade girls travel team. The girls finished in 1st place in their division at the Shore Bash Tournament held in Waretown, NJ.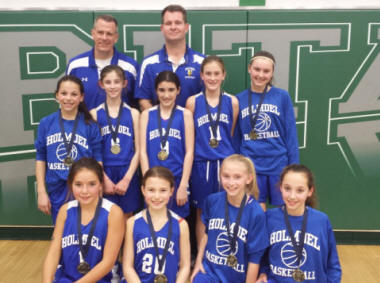 Coach Background Checks
Coaches must fill out the background check form, and bring a driverís license to the office or to a Pre-Season Coaches Meeting in order to coach in HYAA. This applies to all head coaches and assistants. The fee will be paid by HYAA. Forms will be available at the monthly HYAA meetings, in the HYAA office, and at any Pre-Season Coaches Meetings. Background checks must be completed every two years.
Coach's Guide to Concussions in Youth Sports
Please use link below to take the CDC free Coach's Concussion Course:
http://www.cdc.gov/concussion/headsup/training/index.html
You can use this link for downloadable materials available from the CDC website on concussions:
http://www.cdc.gov/concussion/HeadsUp/youth.html
HYAA Advertising Program
Please partner up with HYAA and help serve the youth of our community by providing them with the necessary tools to learn the sports of Baseball and Softball.
PROMOTE YOUR BUSINESS WITHIN THE COMMUNITY
HYAA is offering a sponsorship opportunity for 2015 at our busy Phillips Park Fields. All signs will be displayed for the entire season. Be sure to print out the HYAA Sponsorship form and return it to the HYAA office.
Holmdel Township Recreation Departmenth3>
Programs and activities are also available through the Holmdel Townships Parks and Recreation website. Click here for additional information.
ADVERTISEMENT