BASEBALL/SOFTBALL NEWS
2013 5th/6th West All Star Team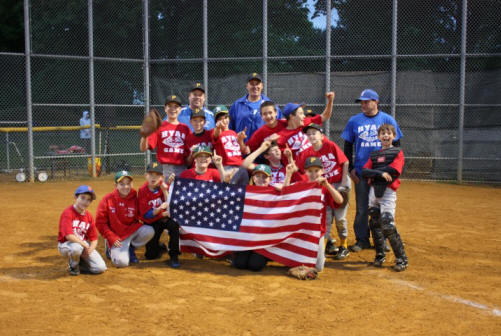 Schedules Now Available
Practice and game schedules for all baseball and softball leagues have now been posted on the baseball/softball page. Games are now underway.
Some leagues are playing against other towns so please see your coaches for directions to away games. Coaches should work with their league presidents to resolve conflicts in the schedule.
Change in Boys 5th/6th Grade Baseball League
This year the boys 5/6 grade league will be playing on 50/70 fields (50 ft. mound and 70 ft. bases). HYAA will be converting the Phillips Park fields to duel purpose fields accommodating both 46/60 and 50/70. This league will now have leading and pick-offs. We look forward to another great season for all our leagues. Please remember to register as soon as possible.
SOCCER NEWS
Registrations Now Being Accepted
Registrations for the fall soccer season are now being accepted. Forms have been distributed to the schools and online registrations are available using our secure form (credit card required). HYAA has also reduced the association fee to $25 beginning with fall soccer.
BASKETBALL NEWS
Travel Tryout Schedule for Fall Season
Tryouts for the boys and girls travel teams will start in June. Be sure to check the tryout schedule for each age group.
Holmdel HS Summer Boys Basketball Camp - Grades 1-8
Holmdel High School will be hosting a summer basketball camp for boys in grades 1 through 8 at the High School. The camp will run for three weeks in July and early August from 9:00-3:00pm Mondays through Thursdays. The cost is $195 per week. Download the registration form (PDF) and send it to the High School office with your check.
LACROSSE NEWS
Schedule Updates
There have been some updates to the girls schedules - be sure to check the lacrosse page for the updates.
Note: The makeup date for the K-2 clinic will be Monday, June 3rd from 5-6:30 at the HS (Roggy) field.
HOLMDEL BOYS LACROSSE SUMMER CAMP
Run by HolmdelHigh School Coaches and current college players
AGES: Entering Grades 3-9
DATE: July 29-August 1
TIME: 9:00 am – 12:00 noon
LOCATION: Holmdel High School Roggy Field
COST: $140.00
Registration forms are located at the following link:
http://www.holmdel.k12.nj.us/schools/summer_camps/sum_sports_camps_2013_info.pdf
MAKE CHECKS PAYABLE TO: Holmdel High School (Must be a separate check for each sports camp)
MAIL CHECKS TO: Elliot Cohen – Holmdel HS (Summer Sports Camps) 36 Crawfords Corner Rd, Holmdel, NJ 07733
Contact Mr. Guastella with any questions - sguastella@holmdelschools.org
Important News!!
HYAA Lacrosse now has dedicated lacrosse fields for practice and games at Village School

We now have 3 boys teams, one 3rd/4th grade team, one 5th/6th grade team, and one 7th/8th grade team

Practice and game schedules finalized. Click on the Lacrosse tab to the left
WRESTLING NEWS
2012-13 Season Recap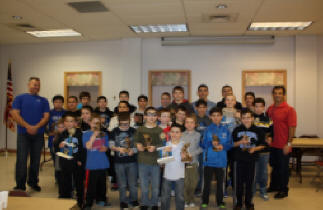 After finishing tied for first place last year in the "B-2" division, Holmdel was moved up in the more competitive "B-1" division and did not make the playoffs. The Jersey Shore Junior Wrestling League consists of 32 teams split into A and B divisions. It is the most competitive league in the state, having won all star matches against other regions for three consecutive years. Read the full recap of the 2012-13 season on the wrestling page.
2013 Spring Wrestling Clinic
Check the wrestling page for information regarding the 2013 Spring Wrestling Clinic.